Welcome to the Glengarry Memorial Hospital Foundation
We value our local hospital!
The Foundation's constant mission is to support Glengarry Memorial Hospital in its efforts to meet the demands of an ever-expanding patient load.
Thanks to the commitment of our incredible volunteers and the generosity of our donors, our fundraising efforts continually help the hospital to acquire new medical equipment, and to make notable renovations and updates to the building. Each and every day, we are proud to see how our efforts assist Glengarry Memorial in providing the very best in modern patient care.
Upcoming Events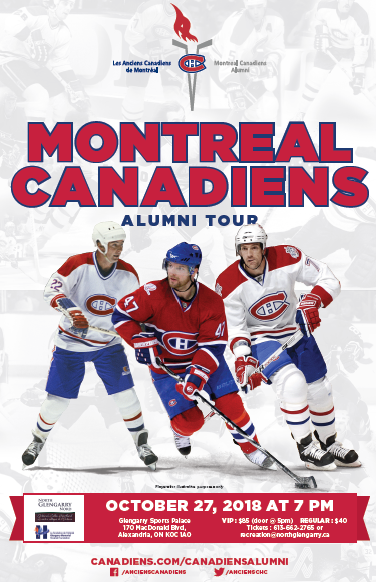 Montreal Canadiens Alumni Tour
The roster of 11 high-calibre NHL players will hit the ice at Glengarry Sports Palace on Saturday, October 27, to compete against our Glens Alumni team in the Montreal Canadiens Alumni Tour.
Your hosts; The Township of North Glengarry and la Fondation de l'Hôpital Glengarry Memorial Hospital Foundation will announce the roster once released.
This event will be an incredible day for our community. By witnessing the speed, accuracy, and skill sets of some of the NHL's biggest stars, fans will get to experience a monumental day in North Glengarry's hockey history. Come and see or come and play!
Gameday is rapidly approaching! Those interested in purchasing tickets and/or *playing that day can contact:
recreation@northglengarry.ca
613-6622765
//
info@hgmhfoundation.org
613-525-2222 x4138.
* If you are interested in playing with the Canadiens Alumni as a 'Thrill of a Lifetime' or would like to join the Glens Alumni team, spots are still available. (Must be over 35 years old).
WHO WE ARE
The Glengarry Memorial Hospital Foundation is a charitable organization committed to raising funds for improvements to Glengarry Memorial patient services.
FUNDRAISING
The Foundation relies on the continued generosity of private and corporate donors to complement fundraising efforts.
Find out ways you can donate today.
DONATIONS
The Glengarry Memorial Hospital Foundation proudly organizes several fundraising events each year to meet campaign goals.  Please support us at our next event!
HOW YOU CAN HELP THE HGMH FOUNDATION
Quality Patient Care in Our Community

The Glengarry Memorial Hospital Foundation prides itself on ensuring that residents of North Glengarry and outlying regions have access to the best possible hospital services within their own local community.